Weymouth Football Club is delighted to announce the shortlist for the Weymouth Football Club Hall of Fame 2021 edition.
Thank you to our friends at the Marlboro Restaurant for sponsoring this event.
During the first half of March we gave supporters the chance to make their nominations for the Hall of Fame, the top 10 most frequently nominated former players, officials and managers will now be put to a public vote. The top 3 from this vote will then be inducted into the Hall of Fame at the third edition of the Weymouth Football Club Hall of Fame.
You can vote for one of the nominations via the poll option below.
The shortlist is as follows: Tony Agana, Dudley Barry, Alan Beer, Steve Claridge, Derek Courtney, Sammy McGowan, Mark Molesley, Lee Phillips, Ashley Wells, and Stephane Zubar.
We have included short profiles below of each nomination.
The voting will finish on 31st March 2021 and the final inductees will be announced shortly afterwards.
In previous years we have inducted: Bob Lucas, Matthew Bound, John Clarke, Willie Gibson, Martyn Harrison, Tony Hobson, Ian Hutchinson, Aniello Iannone, Bryan Lawrence, David Laws, Jason Matthews , Graham Roberts, Phil Stocker, John Waldock, and Stewart Yetton.
London-born Tony is one of those non-league success stories that Terras fans can say "I saw him before he was famous" and they had that joy over three and a bit seasons from 1983.
Tony moved from Welling United, relocating to the area with his work at an insurance company and immediately fitted in to his new surroundings. He went to play 162 competitive games scoring 47 goals up front and earned a call-up to the England C team. He also won player of the year twice and scored in the final ever game at The Rec.
In the end First Division Watford snapped him up for £20,000 and he also went on to play in the top flight for Sheffield United, Notts County and Leeds.
Barry was born in Gunnislake in September 1943 – as a halfback he joined Weymouth in June 1965, from Plymouth Argyle – whom he joined in 1962.
At Weymouth he was part of the Southern League title winning in the 1965/66 season.
In 1968 he joined the staff of the development office as deputy to Alex Jackson.
On his retirement from full time playing, in June 1973, he joined the coaching staff of Weymouth FC. He made 385 appearances (15 as a sub) scoring 48 goals during his time with the Terras.
In 1975 he moved to Kuwait to work as Youth team coach at National Sporting Club – where Graham Williams was manager and later became manager at Bideford Town staying 3 seasons before retiring from football.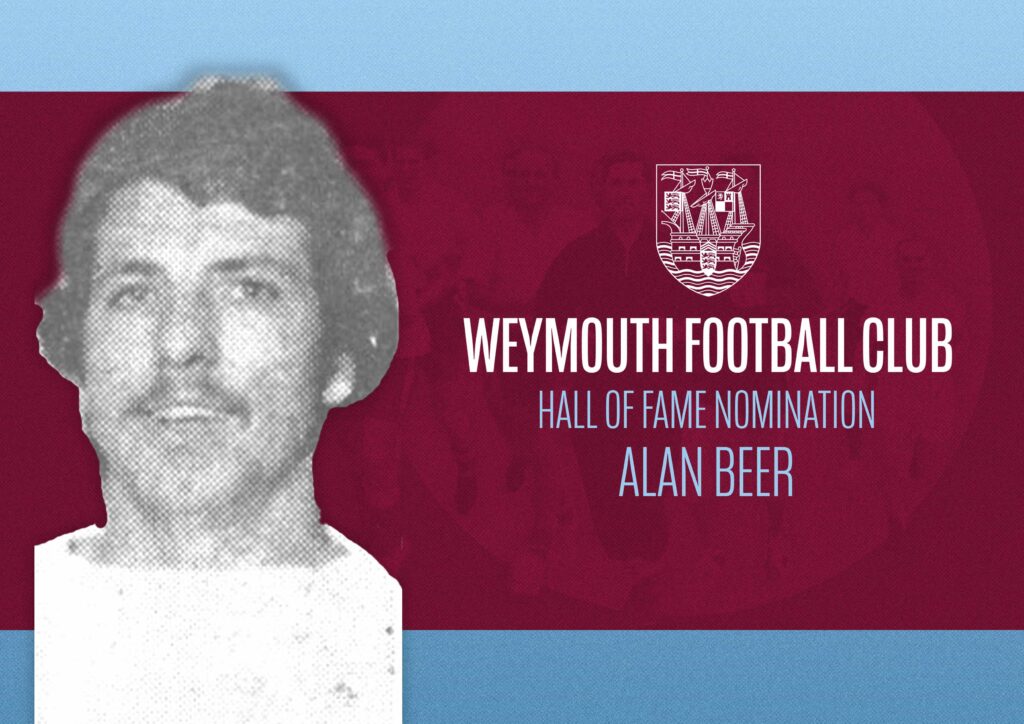 Born in Swansea in 1950 Alan came to Weymouth as a 22-year-old forward looking to make a name for himself again after being released by his home town club.
And make a name for himself he surely did as in a three season spell he plundered 78 competitive goals in just 129 games at a ratio of 0.6 a game at the highest level in non-league.
Since the 1940's until the present day, only three Weymouth men have played as many matches and enjoyed more goals per game. Alan was the club's top goalscorer in his first two seasons before his efforts were rewarded with a move back into the football league with Exeter City in 1974.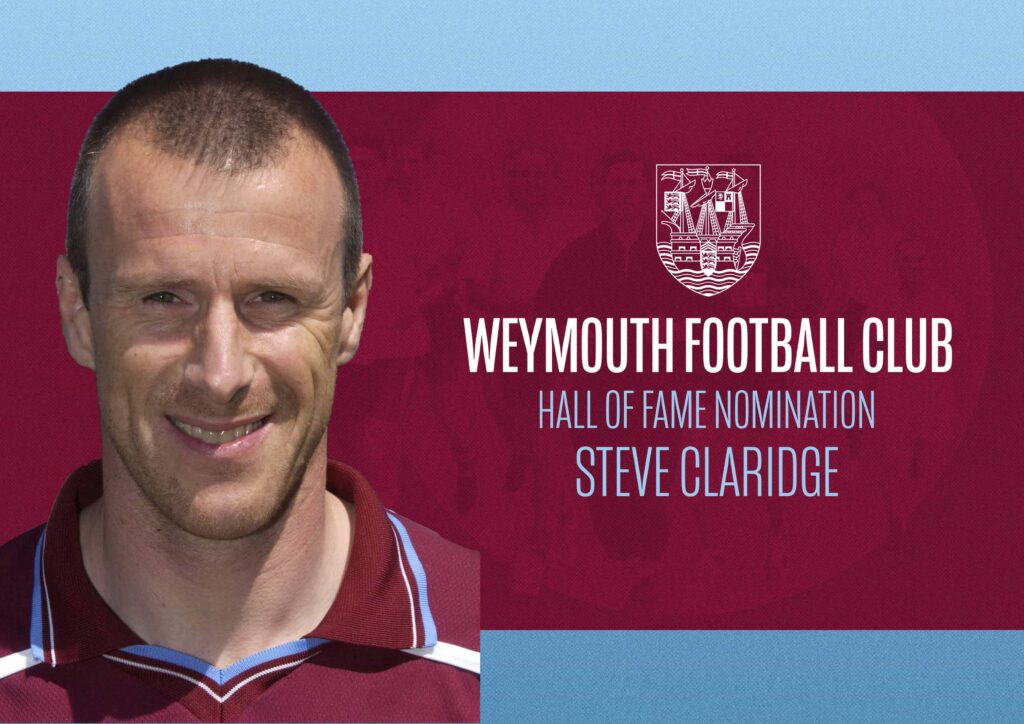 Few people have had such an impact on Weymouth FC over such a long period despite "only" playing 216 competitive games for the club scoring 91 times.
Steve first appeared as a fresh faced 19 year old after being released by AFC Bournemouth, playing three seasons and scoring regularly before being sold to second division Crystal Palace.
A successful journeyman football league career ensured before he returned to the club 16 years later and enjoyed his most prolific season scoring 28 in 45 games combining his striker role with that of manager.
Released half way through the next season having managed 76 games and winning almost half, he would make one final appearance in 2009 at the age of 43, some 24 years after his first debut.
"Catweazle", an electrician by trade, was just a lad of 18 when he joined the Terras as a forward in 1971. He would go on to play for Weymouth for 10 years over 11 seasons and was always one of the first names on the team sheet.
During his decade in claret & blue he amassed 445 competitive games scoring 110 times. Since WW2 only 7 players have played more games and only 4 have outscored him. He was the top goalscorer in the 1974/75 and 1975/76 seasons and over his long tenure the club averaged a lofty position of 8th in the non-league pyramid with two Southern league runners-up medals.
He was rightly rewarded before his departure to Poole Town with a prestigious testimonial game at The Rec against Chelsea.
Forward "Wee" Sammy was persuaded to move south from Scotland to Weymouth in 1948 and played in the famous FA Cup 3rd Round game against Manchester Utd in the 1949/50 season.
He was also a member of the Southern League team that were runners-up in 1951/52 & 1954/55 and is the only Weymouth player to feature in two FA Cup wins over football league sides.
Despite only joining the club at the age of 28, he went on to play for 11 seasons until he moved to Portland United. He racked up 445 competitive games placing him 9th in the post-war appearances list and was an ever present in the senior side from February 7 1951 to 28 April 1956.
In 1959 McGowan became landlord at the Cornopean Public House, then across the road from the Rec. A year later he became 1st XI trainer at the Recreation Ground and held the position until 1972.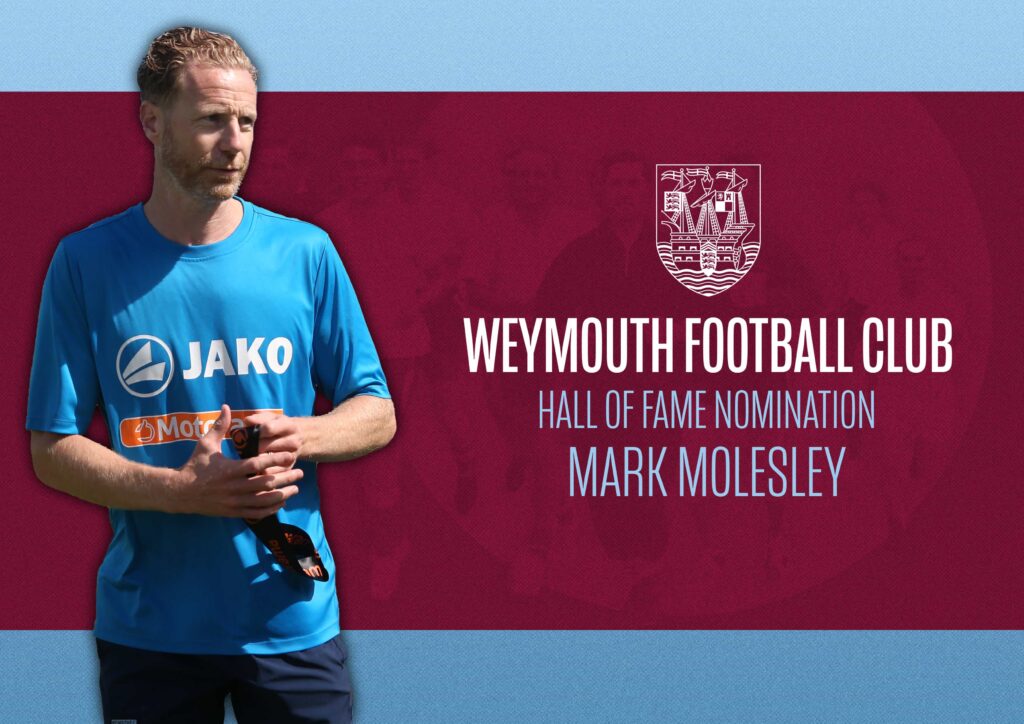 Mark Molesley originally joined the Terras an attacking winger from Aldershot Town, later becoming player-coach under Jason Matthews, but it was his spell as manager that exceeded all expectations.
In his first full season in charge in 2017-18, his team amassed 97 points (the 2nd highest points total ever for the club) and yet only finished 5th in the most bizarre of seasons. In the following campaign "only" 86 points were gained but that was enough to clinch the Southern league table on the last day of the season.
And yet more glory was to follow in his final season in charge with a 3rd place Conference South finish followed by two playoff wins and a return to the National division for the first time in over a decade.
Mark is the only manager to achieve back-to-back promotions at the club and his 57.7% win percentage places him 4th in the all-time WFC managers list.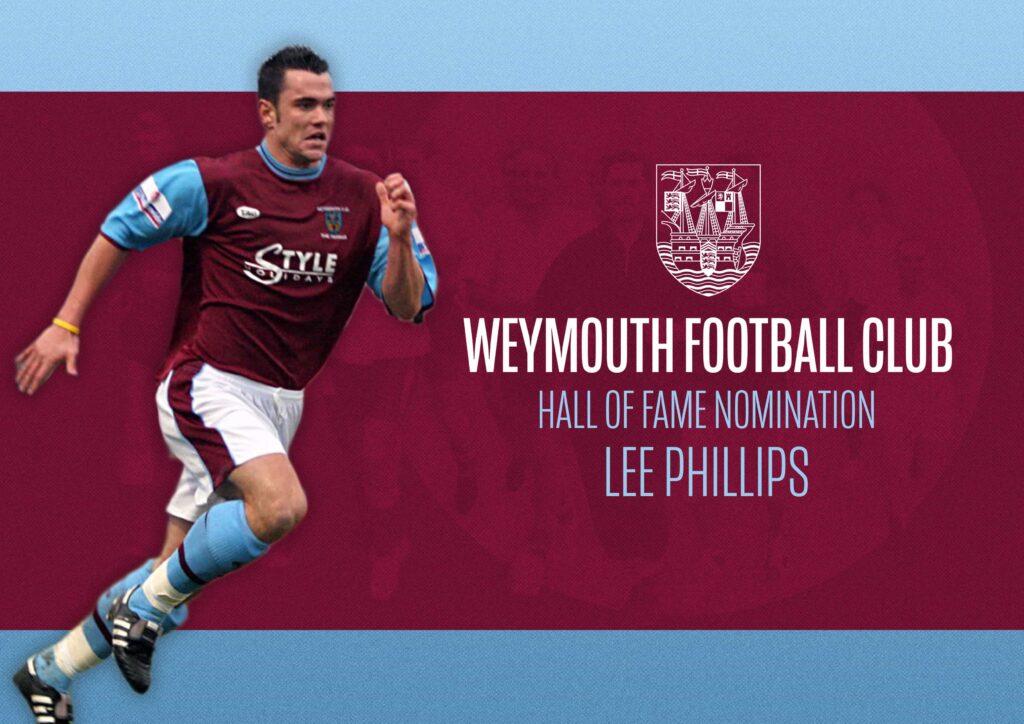 A bustling centre forward, Lee played 174 competitive games scoring 80 goals at a healthy ratio of almost a goal every two games.
He featured for the club over two spells, firstly five seasons from 2000-01 before a cameo role in our last conference season in 2008-09.
As well as a prolific goalscorer he was also a great strike partner providing 37 assists, more than anyone else over the seasons he played for the Terras.
Lee is probably most fondly remembered for scoring his only league hat-trick in the 8-0 mauling of Dorchester in 2003.
Called "Mr. Weymouth" by some and the "Weymouth Moses" by others, local boy Ash was quickly taken to the hearts of fans with his loyalty and stout defending in the often unfashionable left back position.
Making his senior debut at 20 in March 2012, he went on to play for nine seasons until being released last summer with a testimonial planned. During his long tenure he became the first Weymouth player to exceed the 300 competitive game mark in almost 15 years and his 55% win percentage is higher than any post-war player with over 130 games.
He is also one of only 20 or so players to boast more than one promotion at the club and he won two-thirds of his FA Cup matches as a Terra, an unparalleled feat amongst peers.
Mr. "Ice Cool" joined the team in 2016 from AFC Bournemouth and was one of that special group of players that experienced successive promotions with the club.
The French Guadaloupe defender had an effortless Caribbean style to his play, honed in the unlikely surrounds of northern France and Romania. He repelled opposition attacks with calm aplomb and his occasional forays forward resulted in 14 competitive goals in 148 games over four memorable seasons.
Nearly half his goals came in a blistering spell of 6 strikes in 7 games near the start of the 2018/19 season – he was still the top goalscorer for the club three months into that campaign!