John Pritchard: Going way back to 2014 you mentioned you had never before experienced a winning mentality like the one around the Bob Lucas Stadium, since then how has the mentality changed at the club?
Calvin Brooks: When I first joined on loan we were flying, I remember the feeling, every game we just knew we were going to win, playing with so much confidence. Unfortunately, towards the end of that season, we really fell away. That is probably the biggest difference now, this group of players has proved that we can run the course, we have shown we can do it over a full season. The other difference with this group is we are not satisfied with just winning, it's about being the best we can be and we are always very critical with ourselves as a team which has stood us in good stead, that's something that the coaching staff has instilled.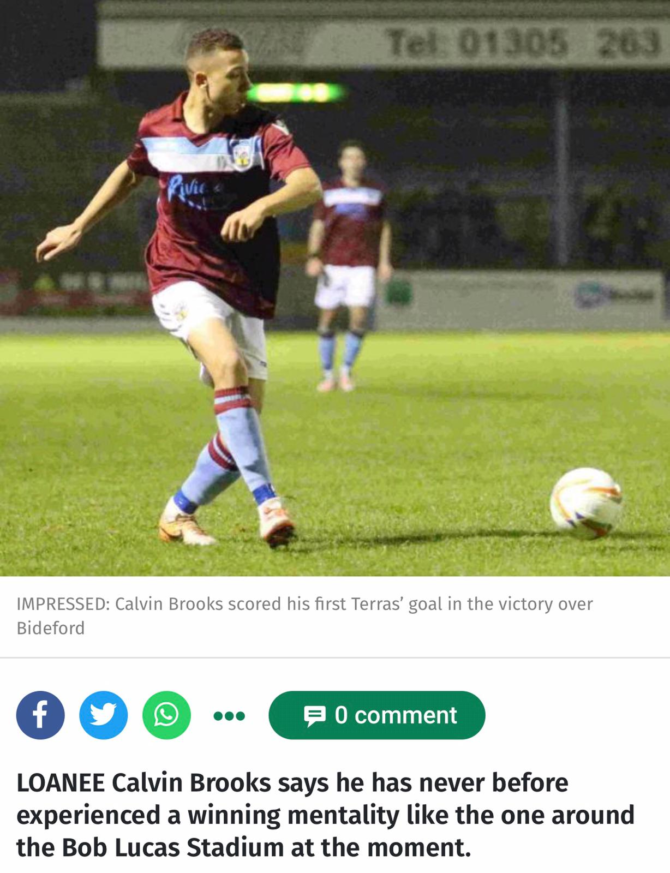 JP: From your first to most recent goal, every year you seem to notch a couple more, which has been your favourite/best goal you have scored for the Terras?
CB: That's a difficult one but I would probably say the most important goal was the goal against Chesham at home last season. Favourite goal would have to be the header at home to Poole Town last season, It was a great ball in from Josh Wakefield and a great header to put us 2-1 up.
JP: That goal arguably helped us get over the line and gave us a vital point, what a feeling that must have been when you saw it go in? Also what a day this was! I know you could be here all day talking but can you give us a brief feeling of lifting that trophy?
CB: When the final whistle went it was a feeling of relief for about 30 seconds and then it kicked in, just an amazing feeling that we had finally done it, everything that we had been working so hard for. To be able to give that promotion to the fans was something special, they deserved it.
JP: In this picture you have the armband on I bet that was a good moment? You are also one of the longest-serving players in the squad, that must be something to be proud of?
CB: It was always a pleasure to have the opportunity to captain this club, there was a spell of around 20 games when Stewart Yetton was club captain and wasn't playing regularly, I was asked to do the job. I always enjoyed the added responsibility, I try to give everything in every game and that has been recognised over the years which is one of the reasons I am still here.
JP: Going on I'm being asked to do a job and enjoying the responsibility, this has got to be up there on one of the strangest things you've experienced at the club?
CB: That is one I will never forget! Dan Thomas was sent off after half an hour away at Kings Langley and we had no goalkeeper on the subs bench. Everyone sort of looked at each other and I thought well let's give it a go. The plan was punch everything, which I did, unfortunately, I did concede one from a free-kick. I still get the Shaka Hislop shout to this day, great memories.
JP: This reply was absolutely perfect I guess there was no other a place to come back to?
CB: Definitely, l knew there would be a possibility to come back, I didn't expect it to be so soon, but I'm so happy I had the opportunity to come back for that historic season. Now we have a new challenge to go again and continue to bring the club success and it's another challenge I'm looking forward to. Up the Terras!