Next up in our Terras Abroad series is former Dorset Evening Echo journalist, Matt Pitman.
Matt's now moved out of the journalism world and is now living and working in Sydney, Australia.
This is a really interesting interview as Matt reveals some interesting "behind the scenes" moments from years gone by and how our rivalry with Yeovil plays out on the other side of the world.
Whereabouts in the world are you and what took you there?
Sydney, Australia, which at risk of sounding like the Proclaimers, Google tells me is more than 10,500 miles from Weymouth. I have lived here for nearly a decade now. I left Weymouth for London for work reasons in 2006. A couple of years later I met my future wife, an Australian, and moved to Sydney with her in late 2010. Our home is decorated with plenty of Dorset memorabilia and we still own property in Weymouth so, despite the distance, we have managed to maintain both a spiritual and physical link to the town.
How long have you been a Terras fan and what's your earliest Terras memory?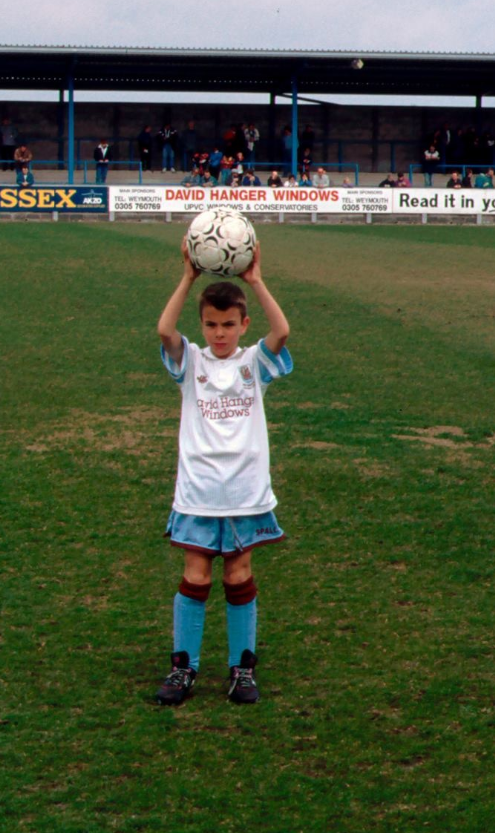 Although my family has long links to Weymouth (a relative Lutor Pitman ranks as the club's leading scorer; I am lobbying for his inclusion into the Hall of Fame), I was born in Birmingham. My dad took me to my first Terras game in March 1991, at the age of nine, away to Moor Green who were the local team to us at that time. Weymouth lost heavily and we were relegated that year. An interesting start to life as a Terras fan.
We moved as a family to Weymouth in 1992, which coincided with promotion from the Southern Division. I was mascot a few times that season (see pic), became a ballboy and an early member of the Junior Terras under a lovely chap, then Commercial Manager Fred Dunford. Quite a few people I know of a similar age became supporters around the same time.
One particular memory of those early years – which seemed to mostly contain defeats, relegations and financial crises – came when as a ten-year-old I copped a stray shot in the face from striker Tony Cook. Fortunately, the wonderful Bob Lucas was on hand to treat my bloody nose. This picture was taken about ten minutes before the incident.
You covered The Terras for the Dorset Echo for eight years. What are your favourite moments from this time?
After watching the Terras as a supporter, getting the chance to cover the club for the Dorset Echo was wonderful and I will forever be thankful to the then Sports Editor, Paul Baker, for the opportunity. Initially, I covered away matches and later, as a full-time reporter, became the main Terras correspondent. The club has over the years so many warm and friendly supporters, volunteers and club officials. It is a little cliched, but the people have provided my favourite moments over the years and in some cases, life-long friendships.
After moving on from journalism, it has been enjoyable to move back into being 'just' a fan of the club. Specific highlights from a professional capacity were mostly from the Ian Ridley/Steve Claridge era when the club seemed to fizz with energy after a long period of unfulfilled potential. Specific games over the years that stick in the memory include:
• The 1-0 win away to Dagenham in the FA Trophy: Lee Phillips scored a late winner and I let my professional guard down by celebrating the goal while sat next to Radio 5 Live who were doing a live cross from the game just as the goal went in.
• The 8-0 Boxing Day win over Dorchester during the Steve Claridge era. At the Echo we produced a rather iconic back-page following that win which I today have displayed in my office.
• The two FA Cup games against Nottingham Forest. Fans will know about the atmosphere around those games. From a professional perspective, it was also rewarding as we worked closely with broadcasters like Sky Sports and Talksport and produced a number of commemorative pull-outs around the game.
While I have very good memories of my period covering the club, reporting on a football club also provided a few surreal moments. Being 'banned' by then manager Garry Hill and CEO Gary Calder, for factually reporting on a signing (Dean Holdsworth) which had already taken place and reported elsewhere was certainly baffling, as was my appearance in the BBC Football Diaries series in 2005 when I was on the wrong end of some dubious humour by then defender Robbie Pethick.
Have you started supporting another team since you moved to Australia?
Western Sydney Wanderers who play in the A League which I believe airs on BT Sport in the UK. The league itself is only a decade or so old and suffers from a lack of mainstream media coverage as football is generally behind rugby league, Aussie Rules and cricket in the national sporting picture.
Football in Australia is played over the summer months, often in 40 degree temperatures which does not particularly help fast-flowing football. That said, I am a believer in supporting your local team where possible and there are plenty of 'Poms', as we are known, who go to games.
One vague link to the Terras is that Western Sydney Wanderers main striker is Simon Cox, who joined from Southend United where he was team-mate of Brandon Goodship.
How do you keep in touch with happenings at the Bob Lucas Stadium?
Thank goodness for the internet. I suppose distance probably has made the heart grow fonder as far as the Terras are concerned. I still check the Dorset Echo website daily – old habits – and the club's various media channels along with contact from friends who are supporters. I also listen to the BBC Radio Solent non-league podcast and the Non League Paper online.
As others have said, the club's media team deserve great praise and great improvements have been made from years ago. Video clips/highlights of games are particularly welcome and something I would think many exiles in particular would welcome more of in future. This might potentially be an extra revenue stream for the club?
Do you get back to the Bob Lucas Stadium much? Being on the other side of the world I guess it's not that easy?
As the flight back takes nearly a day, sadly we do not get back as much as we would like. We do try and return every couple of years if possible. Over the past couple of visits I have been able to get to a game while back and a few years ago, the club kindly let me into the stadium to snap a sneaky picture with my son James.
Last season I went to the away game at Staines fairly early in the season. It was great to see some old faces again, such as Ian White, Big Merv and Pete Pavey. It was clear that day that Mark Moseley has built a terrific team.
How did you follow the Farnborough game at home last season? Did you get up in the middle of the night?
With the time difference, Saturday afternoon games tend to kick off at midnight/1pm in Sydney. Generally, I tend to look up the score on a Sunday morning but thanks to the terrific commentary from Ben, I have had a few late-nighters listening to the game.
Prior to the Farnborough game, I was as nervous beforehand as other previous promotion cliffhangers – Baldock away, Crawley away and the like. When Brandon Goodship scored to effectively seal the title, my roar in celebration at 2am would have been strange for neighbours.
Have you ever bumped into another Weymouth fan in Australia?
A few years ago I wore a Terras shirt to watch England take on the Aussie in the Ashes at the Sydney Cricket Ground. While walking around the ground, I heard someone shout 'Up the Terras'. Unfortunately, I couldn't locate who it was but it was nice to hear.
On my first weekend in Sydney, I visited a local shopping centre, again wearing a Terras shirt (I do change my clothing from time to time). I saw a fellow shopper heading towards me wearing a green and white football shirt – which turned out to be a Yeovil shirt.
Reminiscing a scene from a Western, neither of us would give ground or speak to the 'enemy' – so we gave each other a simple nod in acknowledgement. 10,000 miles away and still rivals.
How do people react when you tell them you're a fan of Weymouth?
As mentioned earlier, sadly football here is a bit of an afterthought. Most of my football discussions tend to be with other expats including a few non-league fans. With Aussies, while there is good knowledge of Premier League level, things tend to drift off after that so when pressed, I tend to talk about 'Division 6' etc.
For Weymouth as a place itself, there is a really strong knowledge of the town and region, mostly because Escape to the Country airs in primetime here nightly and Weymouth is featured heavily on that. Aussies also reference the Olympic sailing events and Broadchurch.
And finally….imagine we draw Yeovil at home in next years FA Cup/FA Trophy, or league (who knows what's going to happen!), would you fly back for the game?
My wife Avegail, fortunately, shares my passion for the beautiful game. Funnily enough, years ago when we talking about moving to Oz, she joked about me making a special visit back if we were to draw Yeovil, have a game to earn promotion to the Football League or play at Wembley. We have also agreed that should we win the lottery, Mr White will be receiving a call.
I'm fortunate that Avegail gets my love for the Terras. She helped organise a special Terras shirt, signed by about a dozen club legends, which is hung in my office, and also purchased an appropriately coloured set of trainers recently.
We are trying to bring up our son James as a fan of the club and I'm looking forward to taking him to his first game during a future visit. I will be a proud Daddy!
Cheers, Matt! You can keep in touch with Matt on Twitter (https://twitter.com/matt_pitman)