Nine weeks ago, previous Weymouth FC women's teams were consigned to history; now a new team is preparing to make history of its very own.
The reasons for starting a new team this summer was two-fold – to create a new successful senior team under the Terras family umbrella and provide a pathway to adult football for the hundreds of girls playing for the club.
It takes a very brave club to start a new team from scratch during a global pandemic but that is exactly what the club did in July. And a new team needed a new manager, the board making no hesitation in approaching Natalie Anderson, who immediately took up the challenge.
Natalie has been a permanent fixture for years in the youth coaching team at the club as well as being involved at Weymouth Cougars youth for over a decade, therefore bringing a wealth of experience to the new role. I spoke to her about the start of this new exciting journey.
The first major question the club put to Natalie was about kit. By the time the former ladies team disbanded six years ago, the colours worn were straying further and further from the men's team. Natalie was emphatic she wanted the same kit as the men's – an equal member of Weymouth football club.
We can consider this team as a brand new baby sister in the Terras family, a separate identity to the old ladies team who was a much older sibling who eventually moved out, married and changed her name.
"We have the makings of something special"
The first open training sessions were advertised in early July but no one was sure how many would be interested.
"I half thought two or three might turn up, perhaps five but I was delighted we had nine at that first training session".
Word got around, numbers grew, an application to join the Dorset Women's League was accepted and competitive football in the autumn therefore ensured but would they have enough players to field a team?
"I thought if I get a few more then we have the makings of something special. It was a breath of fresh air working with these players."
If you build it they will come is the adage and so it happened. Women with all sporting backgrounds turned up to the sessions – many that hadn't played in years, some who were curious visitors from local clubs and a few who had barely kicked a ball in anger before. All were eager to see what this new team had to offer, a team linked to the biggest club in the area.
Numbers at training had swelled to almost twenty, with many putting pen to paper. A group of individuals, many of whom had spent years playing against each other from different teams, were starting to unite as one and not without some quality, some having played semi-pro football for the likes of Worthing and Yeovil.
"We are Weymouth. There are no individuals here."
Excitement grew and the fixtures were released, all eyes searching for those games against Redlands of Weymouth (where ex-Weymouth Ladies manager Tim Davis now manages) and of course Dorchester Ladies who have won the league five times in the last eight seasons.
And then, just before I spoke to Natalie for this article, the fixtures were removed for adjustment as there was some shock news…Dorchester ladies had disbanded in part due to a lack of players.
Even the most hard-edged fan does not wish their rivals to fold and Dorchester may feel aggrieved that some of their players heading south over the ridgeway was a major factor but, as stated before, these were advertised open sessions, no players signed for another team were directly approached to join.
After a few training sessions, Natalie already had the makings of a good squad and it was time for her team of three coaches with nearly 40 years of coaching experience between them, to instil the Weymouth FC mantra into their new charges.
"We have drummed into them that we ARE Weymouth and there are no individuals here. I will give 110% to make this the best team and I demand that back from my players".
Soon the time for talking will be over as the players walk out for their first friendly games this month before the league starts in early October. But how far can this team go? At first, Natalie offered a classic footballing cliché but I got the sense she hoped for rapid success…
"Rome wasn't built in a day but of course we want to get promoted".
"The sky is the limit"
Weymouth FC Women are one of the ten teams in Dorset County Division 1 this season and only the top team can earn promotion. It may be a county league but this is step 7 in the football pyramid, compared with step 11 in the men's game. Promotion to step 6 would mean facing sides as far away as Stroud and Swindon, 5 hour/190 mile round trips but this is one of the costs of success.
When asking Natalie about her longer term plans her answer was simple, "The sky is the limit, the dream is to go all the way".
Teams to emulate over the next few years are not hard to find. Firstly, of course, Dorchester, who have won the Dorset league numerous times, then the former Weymouth Ladies team who played their trade at step 4 for a while in the last
decade. Lastly "that" team just over the border in Somerset who were in the top division of women's football only three years ago.
We cannot have a rundown of the past, present and future of women's football at Weymouth FC without hearing from two players who can relate to all three – left winger Charlie Wilson and midfielder Tasha Sibley.
"To be part of something bigger…"
After stepping away from the game for a while to concentrate on her education and a career-threatening knee ligament injury, Charlie has returned to the Terras family from Redlands…
"I saw it as a great opportunity to come back to Weymouth. Just the name drew me to it, to be a part of something bigger".
"What really impressed in those first training sessions me was the way the coaches respected us and gave us confidence but as players, we know when the coaches are talking we listen. Together it's made it an environment that everyone wants to experience."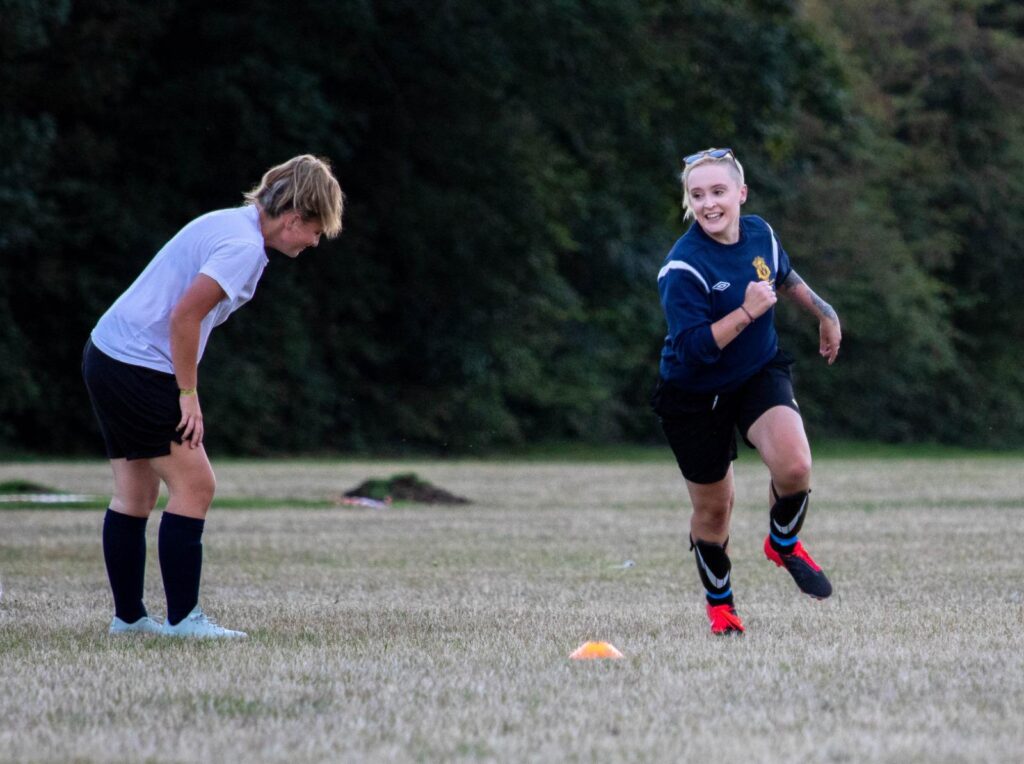 As for their prospects this season, Charlie was optimistic.
"I have seen the football that's been played in training. Partnerships are already being formed and it won't take long for the team to be moulded as one."
The current feeling is a far cry from Charlie's first days of senior football as the former Weymouth ladies team was struggling to continue.
"I was just a youngster then so perhaps I didn't have the same commitment issues that some of the others had but it was obvious something wasn't right when players started not turning up".
There is a buzz in the town…
Midfielder Tasha Sibley has also chosen to join the new team from Dorchester but she too is no stranger to the club…
"I started at Weymouth when I was 11, we lost 27-0 in our first game but we improved over the years to become the team everyone wanted to test themselves against."
Tasha went on to play for Chickerell and Dorchester but now relishes the chance to play for her local team again.
"I was excited at the thought of representing my town once more and being part of something that brings the community together. I can see the support from the club and local businesses – it's overwhelming to know people are behind the team to do well. There's a buzz in the town as far as football is concerned, we can add to that this season."
When quizzed on her thoughts on the season to come, Tasha was also optimistic.
"We will be in a strong competitor in this league. We could take the title. As a Southampton season ticket holder, I'm used to being the underdogs and I have a good feeling about this team".
"The dubious status of the game"
The future looks bright for women's football in the town but what legacy but what pioneers came before them? Apart from the Weymouth ladies side that ran from 2006 to 2014, records of ladies football in the town are scant.
However, recently one local girl has found a route to the top table. Starting out at Weymouth Cougars, Charlotte Harris was signed by one of the "Big 3"(Manchester City) in 2018 and played with their U-23s before making her international debut for Wales U19s last year. And if you think her surname sounds familiar, you'd be right, she is the daughter of Weymouth legend Andy Harris.
Looking further back, in 1990 Yeovil Ladies first ever game was against a team called Weymouth Vikings but there is no record of them being linked to Weymouth FC. Two decades earlier there was a famous Weymouth woman who didn't play the game but did referee, in fact becoming the first man or woman to be registered by the FA! The remarkable story of Pat Dunn can be found here.
From 1921 until 1971 women's football was banned from all sports grounds and although sporadic games did occur, records were often not kept or long since lost. There are just two accounts of games in this period, the famous Dick Kerr's Ladies team playing a game in the town just after WW2 in 1946 and from the 1920's we also have a rather dismissive account of a game played at Portland borstal…
"A Weymouth side played against Preston in front of a crowd of 500 followed by refreshments at the British Legion Hall. The use of private and public space reflects the dubious status of the game. It is unlikely the players would otherwise have visited a young offenders centre but, presumably, at least some of the supporters attended of their own free will."
Back to today and we can all remark on how far women's football has come since those blinkered days and the clear pathway ahead to parity with the men's game. In our little part of England, Weymouth FC are now striving again to be an important and very noticeable chapter in that story as this new team turn the first page of their own part of the story and look forward to their inaugural season.
Weymouth FC Women play their first friendly against Longfleet Lionesses at the Marsh this Sunday (2pm Kick-Off).
*If you can help fill in the gaps in our records for Weymouth FC Women then please get in touch via duncg@yahoo.com.
Weymouth Football Club Women are fundraising to help cover the running costs of the team.
Having relaunched this Summer, Weymouth FC Women have already started their pre-season training and held open trials which have gained lots of interest from players in the local area.
All money raised from this GoFundMe campaign will help cover the team's travel expenses, pitch and training pitch hire, and administration costs.
They have also launched our Commercial Opportunities brochure for the 2020/21 season. You can download this by clicking here.